What is a techno-economic analysis (TEA)?
An early stage conceptual design and simulation model for a manufacturing facility. Common TEA software tools for bioprocessing applications are SuperPro Designer (Intelligen, Inc. US) and Biosolve Process (Biopharm Servies Ltd, UK).
User selects the equipment, all procedures to be performed in the equipment, as well as the structure of the streams connecting pieces of equipment.
User registers all pure components and stock mixtures (buffers, cleaning solutions, etc.) that will be used in the process and specifies costs of pure components, consumables, labor, power, heat transfer agents, etc.
Model generates reports on capital investment, manufacturing costs, equipment scheduling, operations scheduling, cash flow/profitability analyses, and environmental impact.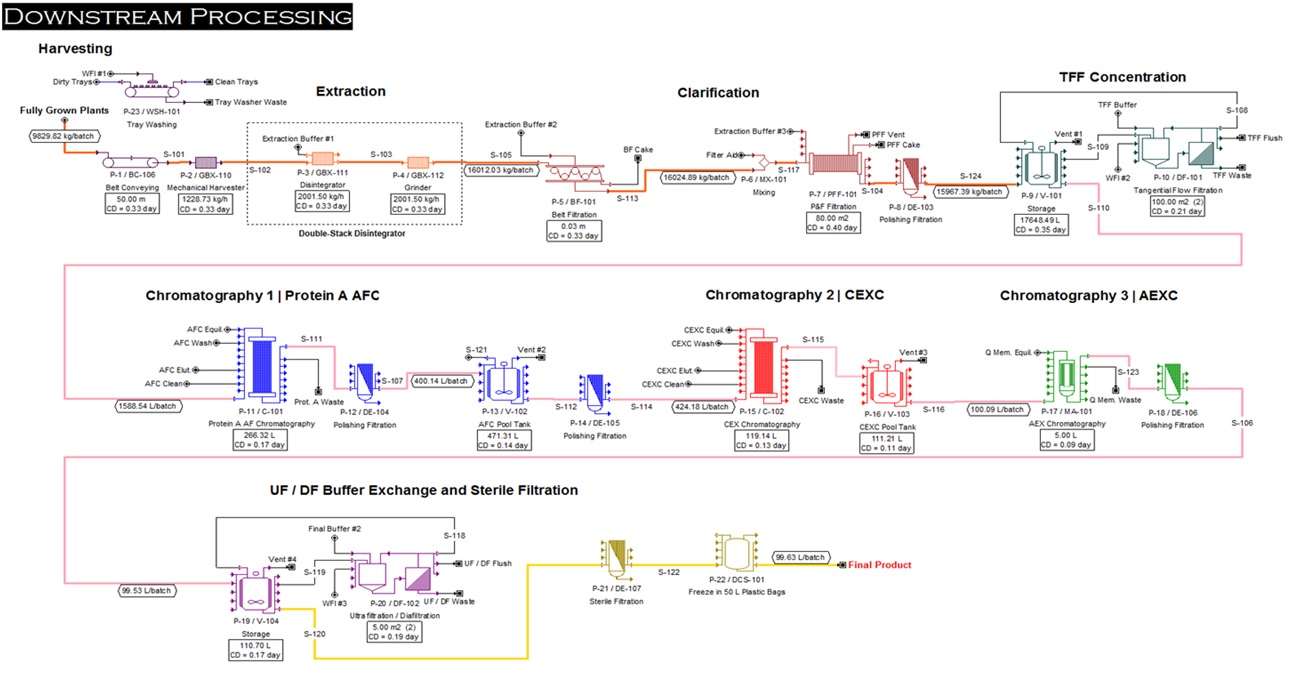 What is a TEA used for?
To quickly evaluate the influences of alternative production strategies, choice of unit operations, process assumptions, production scale, scheduling, raw materials, consumables, etc. on operating expenditures (OPEX), capital expenditures (CAPEX), and profitability (ROI or DCFROR).
To identify process bottlenecks limiting throughput/capacity.
To determine factors that contribute to cost of goods sold (COGS, $/g product) and/or CAPEX to guide process research and development and/or identify where attention should be focused.
To help identify the production scale needed and selling price for profitability, for a given set of process assumptions.
What is our TEA expertise?
Our group has developed TEAs in areas of pharmaceuticals, food safety interventions, and biofuels over a wide range of production platforms (transient/transgenic whole plants, plant/mammalian/insect cell culture, microbial/yeast fermentation) and purification schemes. We have designed TEAs in collaboration with academia, industry, and government.
TEA resources
The aim of our group's TEA work is to increase awareness of available tools and spread knowledge of how these tools can be integrated into research to guide rational engineering design. As such, the majority of our TEAs are shared with the public. This collaborative approach provides an opportunity for others to use our work to explore alternative designs for their personalized needs.
Our Techno-Economic Models are Publicly Available for Download HERE
Example Publications:
1.) Techno-economic Modeling of Plant-Based Griffithsin Manufacturing
2.) Techno-Economic Analysis of a Transient Plant-based Platform for Monoclonal Antibody Production