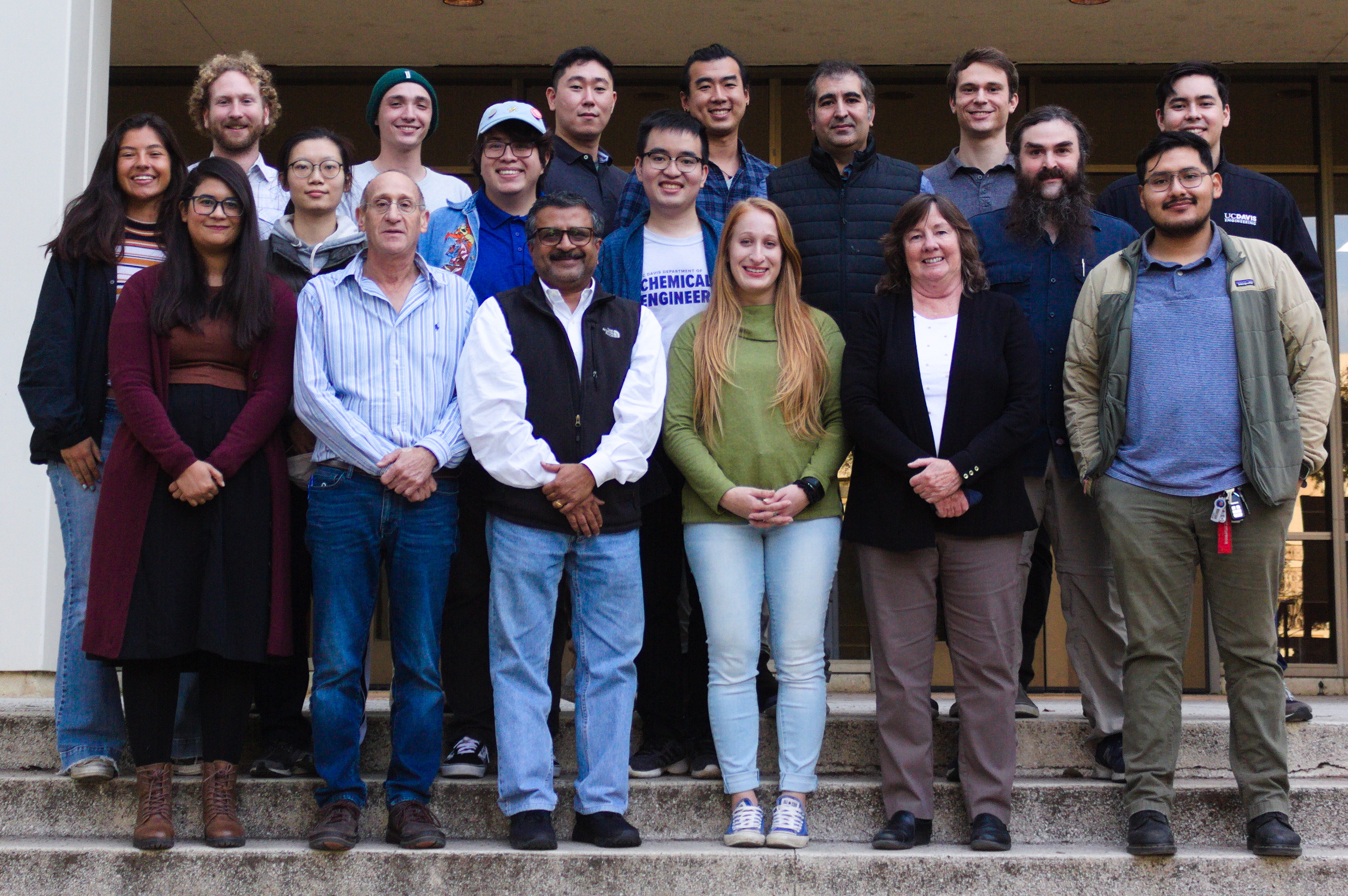 Principal Investigators
Visiting Scholars
Yakir Ophir
yophir@ucdavis.edu
Project Scientists
Staff
Graduate Students
Varun Gore
vdgore@ucdavis.edu

I did my undergrad (B. Tech) in Chemical engineering at Vellore Institute of Technology, India. My initial research was in pharmaceutical recovery from waste water streams. My next project was designing an ohmic heating system for pasteurization. Currently working in developing tech-economic analyses.
Katherine (Katie) Haddad (ELISA Queen)
khaddad@ucdavis.edu

Katie joins as a PhD student in the biomedical engineering graduate group after earning her B.S. in biomedical engineering from the University of Oklahoma. Her graduate work focuses on developing a platform for rapid production of plant-made biologics.
Anindya Karmaker
akarmaker@ucdavis.edu

Anindya Karmaker is doing his PhD in Chemical Engineering. He earned his B.Sc. and M.Sc. degree in Chemical Engineering from Bangladesh University of Engineering and Technology. His research interest is plant based pharmaceutical production, bioprocess simulation and advanced cell culture techniques. His current research work involves subculturing transgenic rice cells, upstream and downstream processing.
Tressa Smalley
tnsmalley@ucdavis.edu

Tressa is a PhD student in the Biochemistry, Molecular, Cell and Developmental Biology graduate group at UC Davis. She earned her B.S. in Environmental Systems: Ecology, Evolution and Behavior at UC San Diego, and previously worked on harnessing microalgae for petroleum replacement products and recombinant protein production. Her current research focuses on utilizing the aquatic plant, duckweed, for recombinant protein production.

Shanice Taylor
sitaylor@ucdavis.edu

Shanice is a PhD student in the Chemical Engineering department at the University of California, Davis. She earned her B.S. and M.S. in Chemical Engineering at Northwestern University, and has prior experience with bacterial synthetic biology. She worked as a pilot operations engineer at Edwards Lifesciences before returning to school. Her current research involves the purification of pharmaceuticals in transgenic plants within the scope of the CUBES II project.
Justin Wong
juhwong@ucdavis.edu

Justin is a PhD student in the Chemical Engineering Department at the University of California, Davis. He earned his B.S. in Chemical Engineering at Northeastern University and worked as a bioprocess development engineer for Synlogic before returning to school. His current research focuses on using plant cell suspension cultures to produce cell cultured meat.
Undergraduate Students
Tanya Chettri
tchettri@ucdavis.edu

Tanya is an undergraduate majoring in biochemical engineering. Her current research is focused on optimizing protein production of transgenic rice cells. She is a recipient of the Susan F. Regan Prytanean Award from UC Davis in recognition of students who demonstrate leadership and community service in projects promoting the wellbeing of woman.

Kathy Du
kndu@ucdavis.edu

Kathy Du is an undergraduate student pursuing a major in Cell Biology and a minor in Quantitative Biology and Bioinformatics.

Andrew Ly
anly@ucdavis.edu

Andrew Ly is a third-year undergraduate student majoring in Biochemical Engineering at UC Davis. His current work in the McDonald-Nandi Lab involves the production of cultured meat through the use of plant cell cultures.
Avani Sethi
avasethi@ucdavis.edu

Avani Sethi is a first year-undergraduate student majoring in Medical and Molecular Microbiology at UC Davis.
Former Lab Members
Name
Former Position
Thesis/Dissertation Title
Current Position
Lucas Arzola
Post-doctoral Scholar + Graduate Student (PhD)
Transient Expression of Recombinant Therapeutic Proteins and Vaccines Using Agroinfiltration in Nicotiana benthamiana
Director of Operations
Puerto Rico Science and Technology Trust
Parallel18 Program
Kalimuthu Karuppanan
Post-doctoral Scholar
Post-doctoral Scholar
Oxford University, UK
Jose Antonio Rocha-Valadez
Post-doctoral Scholar
Bayer CropScience
West Sacramento, CA
Remi Shih
Post-doctoral Scholar
Salem Alkanaimish
Graduate Student (PhD)
Bioprocess Engineering Approaches for Production and Purification of Recombinant Plant Made Human Butyrylcholinesterase
Assistant Professor
University of Kuwait
Elizabeth Anthony Gill
Graduate Student (PhD)
Evaluation of Agrobacteria-mediated Transient Expression of Cell Wall Degrading Enzymes as a Biological Pretreatment Process for Cellulosic Biofuel Production
Electric Generation System Specialist at California Energy Commission, Sacramento, CA
Shivaun Archer
Graduate Student (PhD)
Effect of Light on the Production of Sulfolipids from Cyanobacteria
John and Jent Swanson Senior Lecturer
Biomedical Engineering
Cornell University
Ithaca, NY
Nishant Bhatia
Graduate Student (PhD)
Ribosome Inactivating Proteins from Trichosanthes kirilowii Cultures
Director, Technology and Business Development
Advent Engineering Services
Ching I. Chen
Graduate Student (PhD in Microbiology)
Analysis and Modelling for the Oscillatory Behavior of Saccharomyces Cerevisia in a Continuous Bioreactor System
Currently an Independent Consultant to Biotech Industry
Formerly Director, Process Development and Manufacturing
Tocagen, Inc
San Diego, CA
Michael Cooney
Graduate Student (PhD)
Multivariable, Dynamic Model Development for Pure Continuous Cultures of E. Coli and C. Utilis
Tenured Researcher
Hawaii Natural Energy Institute
University of Hawaii at Manoa
Honolulu, Hawaii
Jasmine Corbin
Graduate Student (PhD)
Process Development for the Production of Recombinant Butyrylcholinesterase in Metabolically-Regulated, Transgenic Rice Cell Suspension Cultures
Scientist, Cell Culture Process Development
Allakos Inc
Seher Dagdeviren
Graduate Student (MS)
Sulfolipid Production from the Cyanobacterium Synechocystis sp. PCC 6803 in Fed-Batch Photobioreactors
QC Supervisor
Baxter International
Corey Dodge
Graduate Student (PhD)
Production of Recombinant Human Gelatin in Transgenic Rice Cell Cultures
Director, Upstream Process Development, Molecular Templates, Austin, TX
Sifti Duhra-Gill
Graduate Student (MS)
Transient Expression of an Anthrax Decoy Fusion Protein in Nicotiana benthamiana
Technician II, California Air Resources Board, Sacramento, CA
Iftikar Gohar
Graduate Student (MS)
Numerical Simulation of Natural Convection in Liquid Semiconductor Metals in Modified Bridgman Furnace
Van den Bergh Foods
Columbia, Maryland
Annette Hagewiesche
Graduate Student (MS)
Plan II
Senior Engineer
Recovery Sciences
Genentech, Inc.
South San Francisco, CA
Bryce Hashimoto
Graduate Student (MS)
Development of a Transgenic Rice Cell Line for Production of Butyrylcholinesterase: A Protective Bioscavenger against Sarin
Sandia National Laboratories
Kansas City, MO
Ting-Kuo Huang
Graduate Student (PhD)
Development of Plant Cell Suspension Cultures as a Bioproduction Platform of Recombinant Human Therapeutic Proteins
Senior Engineer
Genentech
South San Francisco
SangKyu Jung
Graduate Student (PhD)
Agrobacterium-Mediated Transient Expression of Plant Cell Wall Degrading Enzymes in Detached Sunflower Leaves
Assistant Professor, Biochemical Engineering
Hongik University
Korea
Kirolos (Kiro) Kelada
Graduate Student (MS)
Techno-Economic Analysis and Probabilistic Risk Assessment of Intensely Sweet Protein Thaumatin Large-Scale Bioproduction
Process Technology Intern
E. & J. Gallo Winery
Nathaniel Kingsbury
Graduate Student (PhD)
Selective Recovery from the Interstitial Spaces of Nicotiana species
Senior Engineer, Late Stage Development
Kite Pharma
Santa Monica, CA
Yen Ko
Graduate Student (MS)
Cyanobacteria Photoproduction in a Stirred Reactor
Unknown
Rajesh Krishnan
Graduate Student (PhD)
The Expression, Localization and Characterization of Recombinant Trichosanthin, a Type I Ribosome-Inactivating Protein, in Transgenic Tobacco
Director, Biologics Process Development
Gilead Sciences
Oceanside, CA
Ingrid Leth
Graduate Student (PhD)
Production of Agrobacterium tumefaciens for Large-Scale Transient Expression of Recombinant Proteins in Plants
Scientist I
CBR International
Boulder, CO
Ben Lindenmuth
Graduate Student (PhD)
In Planta Expression of Heterologous Cell Wall-Degrading Enzymes
Drug Substance Tech Lead
Bayer Healthcare
Berkeley, CA
Michael Lucas
Graduate Student (MS)
Production Manager
ConAgra Foods
Kantharakorn (Korn) Macharoen
Graduate Student (PhD)
Process Intensification and Scale-up of Metabolically Regulated Rice Cell Culture Bioreactors for Biopharmaceutical Applications
Lecturer
KMUTT Thailand
Christine Owlett
Graduate Student (MS)
Therapeutics from Plant Cell Suspension Cultures
Deceased
Sinyoung Park
Graduate Student (PhD)
Mammalian Cell Respiration and O2 /CO 2 Transfer in High-density Perfusion Culture with Microsparge Oxygenation and On-line Mass Spectrometry
Clinical Research Coordinator
Breast Oncology
Stanford University
Stanford, CA
Kirti Patel
Graduate Student (MS)
Plan II
President and CEO
Executive Board Director
Eppendorf, Inc.
Michael Plesha
Graduate Student (PhD)
Development of a Viral Amplicon-Based Process for Production of Biopharmaceuticals in Plant Tissues
Principal Scientist, Pilot Plant Lead
Bayer CropScience
Sacramento, CA
Kittipong Rattanaporn
Graduate Student (PhD)
Quantitative RNA Analysis and Roles of Viral RNA Silencing Suppressors in Transient Therapeutic Protein Production in Plant Tissues using a Viral Amplicon-Based System
Associate Dean for International Relations
Lecturer, Department of Biotechnology
Faculty of Agro-Industry
Kasetsart University
Bangkok, Thailand
Melody (Trexler) Schmidt
Graduate Student (PhD)
A Cyclical Semi-Continuous Process for Production of Heterologous Proteins in Metabolically Regulated Plant Cell Suspension Cultures
Senior Scientist, Recovery Sciences
Genentech, Inc.
South San Francisco, CA
David Silberstein
Graduate Student (PhD)
Process Development and Characterization of Plant-Made, Oxidation Resistant, Recombinant Alpha-1 Antitrypsin
Scientist I
BioMarin Pharmaceutical Inc.
Sara Sukenik
Graduate Student (PhD)
Transient Expression of an Anthrax Decoy Fusion Protein in Glycoengineered Plant Cell Suspension Cultures
Masaru Shiratori
Graduate Student (PhD)
Studies of a TMV-Based Expression Vector in Plant Cell Cultures
Senior Engineer
Genentech, Inc.
South San Francisco, CA
John Thorup
Graduate Student (MS)
Purification and Identification of Ribosome Inactivating Proteins from Plant Cell Cultures of Trichosanthes Kirilowii
Senior Manager, Process Development
Amgen
Thousand Oaks, CA
Tiffany Tu
Graduate Student (MS)
Scale-up Simulation of Cellulase Enzymes Production for Biofuel Application: Fungal, Transgenic, and Transient Production of Cellulase Enzymes
Engineer
Lumileds
Milpitas, CA
James Wong
Graduate Student (PhD)
Classification of Process Trends Based on Fuzzified Symbolic Representation and Hidden Markov Models
Senior Software Developer
OSIsoft
San Leandro, CA
Qing Xie
Graduate Student (MS)
Recombinant Alpha-1-Antitrypsin Production in Transgenic Tobacco Cells
Biocatalytic
South San Francisco, CA
Yongao (Mary) Xiong
Graduate Student (PhD)
Process Development and Characterization of Plant Recombinant Fc-Fusion Therapeutics
Scientist I, Downstream Process Development
LakePharma, Inc.
Greg Young
Graduate Student (PhD)
Thermal and Stress Analysis of Single Crystal Growth in a Horizontal Bridgman Furnace
Emeritus Professor and Department Chair, Chemical Engineering Department
San Jose State University
San Jose, CA
Liz Zapalac
Graduate Student (MS)
Purification of Alpha-1-Antitrypsin using a Three-Step Chromatography Process - Factors Effecting Dynamic Binding Capacity, Production Rate and Costs
Senior Plant Engineer
Bayer Corporation
Berkeley, CA
Rupak Goswami, PhD
Visiting Scholar
Hiroto Hirano
Visiting Scholar
Pauline Famy
Visiting Scholar
Oscar A. Ortega-Rivera
Visiting Scholar
Alexandra Ramirez Celis
Visiting Scholar
Trenton Smith
Visiting Scholar
Dylan Estrada
Undergraduate Student
Olivia Hart
Undergraduate Student
Anika Varma
Undergraduate Student
Erik Knapp
Graduate Student (MS)
Matthew McNulty
Graduate Student (PhD)
Plant Molecular Pharming Techno-Economic and Virus-Based Nanomaterial Approaches to Limited Resource Recombinant Protein Manufacturing
Consultant
N-Side
Cambridge, MA
Brandon Pizarro
Graduate Student (MS)
Techno-Economic Analysis of Domestic Industrial Scale Plant-Based Production of Resveratrol for Novel Biopolymer Application
Ph.D Student at USC, Zeno Group
Patrick Negulescu
Graduate Student (MS)
Techno-Economic Analysis of Large-Scale Cultivated Meat Production
Former undergraduate researchers:
Karen has supervised the following students in undergraduate research projects (ECH199, PUFF program, NSF REU, MORE program, McNair Scholars program, NSF LURE, NSF CREATE-REU, UCD GREAT etc.)
An asterisk (*) indicates that the student went on to graduate school
Mark Johnson*, Darrell Lewis-Sandy, Sara Stokes, Monica Gomes, Richard Cheung, Caroline Crispino, Tuyen Do, Yvette Mangaladin, Anh Nguyen, Mondana Panymanian, Eunice Tan*, Ruth Chan (MORE), Arlene Adela, James Fred Johnson*, Michelle Bishop*, Rachael Balog, Dave Reichmuth*, Casey Bunker*, Cynthia Buenviaje*, Michael Costello, Nicole Dennis, Richard St. John*, Tracy Horsfield, Yea-Lian Huang, Linda Leong, Khan Nguyen, Katrina Meehan, David Mills*, Phuong Anh Nguyen, Bill Ristenpart* (PUFF), James Corpuz, Chris Humphrey, Michael Stoner*, Devin Eselius, Danielle Coutts, Shaelyn Hurst (McNair Scholar), Ruth Chan, Christine Owlett*, Shane Hall, Annie Chou (MORE), Megumi Noguchi, Tammy Adamson (LURE), Phillip Tuet, Jolie Wu, Mark Sanford, Andrew Tung, Diemchi Nguyen, Jennifer Mikovich, Jeff Luk*, Ming-Wai Chen, Debby Kolbeck, Sandra VanDusen, Kali Campbell, Jennifer Chen, Lo-Ming (Alison) Hong*, David Trombly*, Javier Lacayo, Nathan Parker, Drew Erlich, (Vista) Li, Tammy Chan,  Fareed Rudy Mohammed, Quyen Truong*, Kaushal Parikh*, Stacey Cox*, Michael Cheung, Marisa Harano* (MORE), Yanto Yanto*, Javier Cardenas*, Sinath Prom*, Randy Cross, Yevgeniya Mulina, Jeremy Lee*, Joel Thomas*, Jeffrey Upton, Marissa Roush, Yuchen Gu, Christian Millsop, Helena Keller* (Michigan Technological University) Li Qian (Grace) Bai, Allen Reed, Dane Emmerson, Debika Mitra* (CREATE-REU, Georgia Tech), Anh (Annie) Tran, Junxing (Cici) Chen, Huang (Sunny) Yan, Anna Iris Correa Muler (CREATE-REU, University of Puerto Rico Mayaguez), Derrick Hicks* (Integrated Studies Honors Thesis, PUF award), Alexandra Moskaluk * (BioChE Honors Thesis, UC Davis Veterinary School), Thuy Thanh Le*, Jacob Partlow, George Correra, Jerrine Wong, Kaylee Thatcher, Jack Morel, Darwin Constantino, Vincent Reyes, Katie Mains (BioChE Honors), Mathew (Peter) Kedzierski (BioChE Honors), Anthony Tsai * (UC Irvine), Ben Chang (ChE Honors), Zachary Kyser, Aaron Hwong, Kevin Tom (BioChE Honors), Jessie Delzio (BioChE Honors), Jacqueline Kelly, Vuthithorn Chinthammit, Min Du, Joshua McMillan, Garrett Barton, Kostyantyn (Stan) Luferov,